Kai Shun electric knife sharpener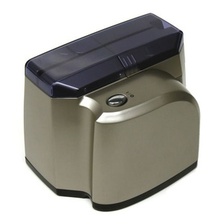 For practically effortless sharpening of your Shun cutlery, this electric sharpener is made to make sharpening easy, safe and effective.
Product Features:
Extremely easy to use: pull your knife through 4 times.
Quickly restores a fine edge to any kitchen knife.
Four ceramic wheels graded from coarse to fine, reshape your blade and polish it to a razors edge.
Easy to clean: pull-out cartridge and run it under a tap after use.
Restores knife to an angle of 16 degrees, the perfect angle for fine knives.
Not suitable for butchers, small paring knives or heavy bolstered knives.