Staub cast iron cocotte - 26cm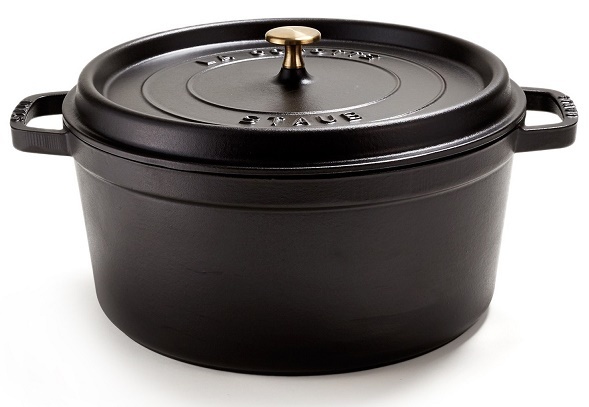 Heat-retaining cast iron and perfectly fitted, knobbed lid seal in the moisture, tenderising your food, making this cocotte ideal for slow cooking soups, casseroles and more.
Staub's innovative enamel coating takes cast-iron cooking to the next level with improved performance, style and durability.
Heavyweight enameled cast iron transfers and retains heat evenly.
Color selections feature multicoat enameling to create a glossy, vibrantly colored "majolique" finish that resembles fine ceramics.
Matte black interior is made from multi-coat enameling with low-gloss matte finish, results in longer lasting wear and tear than other brands and specially formulated black matte interior enamel contains traces of quartz, giving it additional heat resistance and a textured surface that results in better browning.
Resistant to rust, chipping and cracking, the coating requires no additional seasoning like some other cast-iron pieces.
Dozens of precisely placed self basting spikes under the create a continuous natural basting cycle - evaporating juices directly back down on top of the food for more even basting.
Oven Safe up to 260°C / 500°F
Nickel steel knob
Smooth enamel base works on all stovetops
Each piece is one of a kind
Rough texture results in exceptional browning
Requires no seasoning
Dishwasher safe (but not recommended)
Made in France
Size: 26cm / 5.2L
NB: Model with matt black exterior has same smooth enamell base and brass knob.