Staub cast iron cocotte - 24cm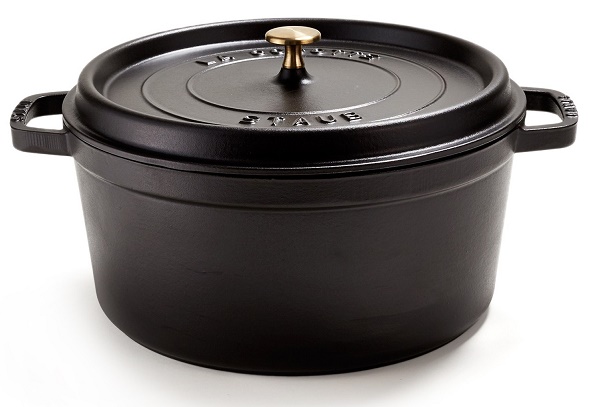 Staub's innovative enamel coating takes cast-iron cooking to the next level with improved performance, style and durability. Three colours to choose from...
Heavy lids to seal in moisture paired with heat-retaining cast iron make this oven ideal for slow cooking homemade chili or a hearty stew.
Heavyweight enameled cast iron transfers and retains heat evenly.
Color selections feature multicoat enameling to create a glossy, vibrantly colored "majolique" finish that resembles fine ceramics.
Matte black interior is made from multi-coat enameling with low-gloss matte finish, results in longer lasting wear and tear than other brands and specially formulated black matte interior enamel contains traces of quartz, giving it additional heat resistance and a textured surface that results in better browning.
Resistant to rust, chipping and cracking, the coating requires no additional seasoning like some other cast-iron pieces.
Dozens of precisely placed self basting spikes under the create a continuous natural basting cycle - evaporating juices directly back down on top of the food for more even basting.
Oven Safe up to 260°C / 500°F
Nickel steel knob
Smooth enamel base works on all stovetops
Each piece is one of a kind
Rough texture results in exceptional browning
Requires no seasoning
Dishwasher safe (but not recommended)
Made in France
Size: 24cm / 3.8L
NB: Model with matt black exterior has same smooth enamell base and brass knob.