Oxo Good Grips tongs - nylon heads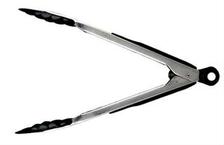 The perfect tongs for use with non-stick cookware. These Oxo Good Grips tongs feature sturdy, stainless steel construction and soft grips and nylon heads you protect your cookware.
The nylon heads are heat resistant to 400°F. Lock the Tongs in the closed position for convenient storage.
The lock consists of a large pull-tab that doubles as a hole for hanging.

Product Featurees:
Stainless steel Tongs with Nylon Heads
Nylon heads are heat resistant to 400°F
Safe for non-stick cookware
Tongs lock closed for convenient storage
Dishwasher safe
Size: 23cm