Bodum Bistro blade grinder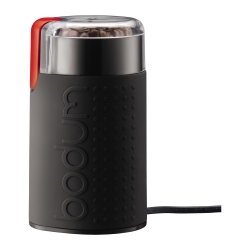 Freshly grinding the beans right before pouring hot water into your plunger or being espressed through your stove top espresso makes the difference in taste that real coffee flavour. Two colours to choose from...
It's small enough to stay put on your bench for easy access and its cable can be stored inside the grinder at the bottom.
It's got a transparent lid so the fineness grade can be observed.
The longer the grind the finer the powder.
This powerful and handy grinder is made from stainless steel, plastic and rubber.
Size: 9cm D x 9.5cm W x 16.6cm H