Kai Shun Japanese Knives
Due to high demand for products from our website and the difficulties our courier network is facing, your order may take longer than usual to reach you. Please be patient and accept our apologies.

Thank you for shopping with The Kitchen Shop.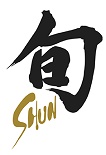 The origins of Kai Shun date back to 1908, in the knife making centre of Japan, Seki City. Using traditional Japanese techniques to create folding knives and razors, their famous kitchen knives have won many awards and are now considered one of the best knives in the world.