Global water knife sharpener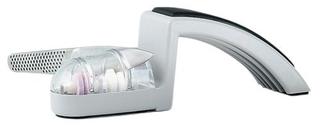 The Global Ceramic Water Sharpener is an effective, easy and safe way to keep your Global knives in pristine condition.
The Global water sharpener incorporates two ceramic wheels, one coarse and the other medium.  By filling it with water and sliding your knife effortlessly between the wheels, they work together to efficiently sharpen your Global knife.
Suitable for forged knives that can be sharpened on both sides only.
Not to be cleaned in the dishwasher.