Salter Ultra Slim glass electronic kitchen scale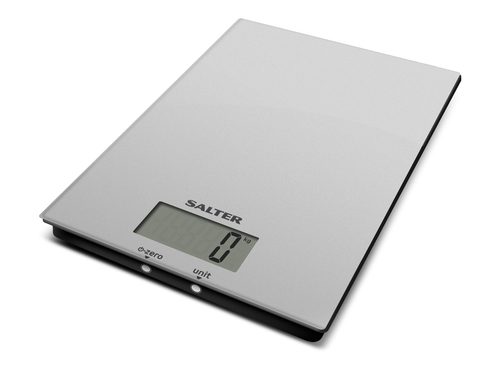 With a sleek and modern design, this digital scale cuts down your time measuring, preparing and washing up, allowing you to spend more time enjoying your culinary creations!
The Zero feature will allow you to measure several ingredients in one go, while the Aquatronic function enables precise measuring of liquids.
With such a stylish kitchen scale, you may want to keep it on display even when you're not baking. But, if you'd rather stow it away, its slim design allows for easy storage.
Features:
Add and weigh multiple ingredients in one bowl for super quick food preparation and save your kitchen from unnecessary cluttering.
Measure Liquid ingredients with ease thanks to the Aquatronic feature on this kitchen scale.
Easy to read display
Switch between metric and imperial measurements as needed.
Read all your measurements on the easy to read, large LCD display and save precious time as you create some masterpieces piece in the kitchen.
Large ultra slim glass platform is hygienic and easy to clean.
Aquatronic function allows you to measure liquids in ml or fl.oz
Add & Weigh 'zero' function allows measuring of multiple ingredients in the same bowl.
Weigh directly on the platform or weigh with own mixing bowl – suitable for use with most bowls or containers.
Slim design for neat storage
Size: 15.7 x 22.4 x 1.87cm
Max weights: 5000g / 11lb / 5000ml / 176fl.oz (d = 1g, 0.1oz, 1ml, 0.1fl.oz)
Battery Included.