Avanti pineapple peeler and corer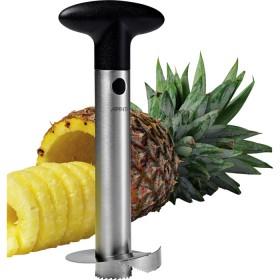 The ingenious stainless steel avanti pineapple peel and corer will peel, core and slice a fresh pineapple in 30 seconds!
Made of stainless steel, it is sharp and durable and works like a corkscrew, removing the flesh in perfectly formed rings and leaving the core in the shell. The shell remains intact for use as a dessert or drink bowl. How wonderful it is, the Pineapple Peeler will make your daily life more interesting.
Features:
Made from high quality stainless steel
Stylish satin polish finish
Ergonomically designed grip for handling comfort
Detachable handle allows you to remove pineapple easily from corner
Sharp serrated blade enables quick and simple coring and slicing
Durable and light weight construction
Suitable for pineapples from 1.25 to 2.5kg
Fresh, juicy and perfect shaped pineapple rings
Shell remains in tact.
Hand washing recommended.