Kai Shun Knives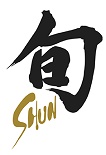 Handcrafted in Seki, Japan, Kai Shun knives feature extra sharp blades and comfortable handles that provide excellent support and control. 
Shun blades feature a specially designed VG-MAX hardened Japanese steel cutting core that is enveloped with 34 ultra thin layers of high carbon stainless steel.
The Damascus style pattern emerges during the hand grinding process and, where the steels meet, an attractive wavy line called a hamon is formed.  The blades are ground to a quick taper edge that helps move food away from the blade quickly.
The Premier range knives have a beautifully hand-hammered finish (tsuchime) to improve food release when cutting.
With a Rockwell hardness of 61, Kai Shun knives are extra strong with incredible hardness, allowing the blade to stay sharper for longer.
The 16 degrees razor sharp edge creates exceptional cutting performance. 
The Classic range knives have D-shaped handles designed specirically for right or left handed users, made of compressed pakka wood handles. The Premier range knives are for ambidextrous use and have walnut coloured pakka wood handles.
Both designed for excellent comfort & support.
NSF certified for use in commercial kitchens.
Shun knives are provided with a limited lifetime warranty from manufacturing defects.