Crack-a-mac macadamia nut cracker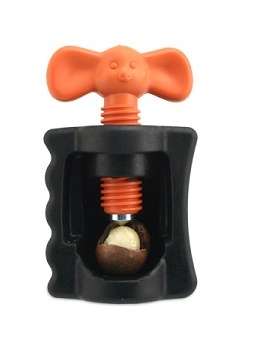 Macadamias are delicious and they are very good for you! The only problem is getting into them! The solution is the Crack-a-Mac.
The Crack-a-Mac is designed specifically for cracking Macadamia nuts and, it also has a cute little koala head as a handle!
Designed and made in Australia, this is the best macadamia cracker available! Just put your Macadamia inside the Crack-a-Mac and line the little white dot up with the metal cracker. Twist the Koala's head a couple of times to apply pressure…and with a little crack, your Macadamia will open!
Features:
Designed and made in Australia.
Made from heavy-duty plastic and metal.
Often only takes a couple of twists and usually opens your Macadamias whole, without reducing the nut inside to too many pieces.
Hand wash recommended.
Height: 12cm.