Acurite candy/ deep fry thermoneter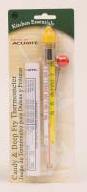 Excellent quality glass (heat resistant to 175°C) and protective cover.
Perfect for candy, deep frying and preserving.
Product Features:
Insulated handle with adjustable pan clip.
Temperature ranges from 50°C to 175°C.
Indicating what temperatures are best for thread, soft-ball, firm-ball, hard-ball, soft-crack and hard-crack stages.
Also great for jelly, chicken, donuts, fish and deep fried chips.
Non-toxic filled tube.
Hand wash only.