Westmark olive pitter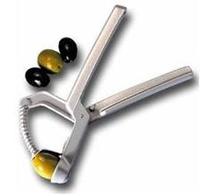 This Westmark Olive Pitter has an extra efficient spring action for removing your olive stones easily, with no hassle you.
Complete with a spring action, the olive is placed in the holder before the handle being squeezed and the stone pushed out. Ideal for de-stoning large volumes of olives thanks to its spring action and substantial German made quality.
Product Features:
Removes pit both olives and cherries with ease.
Ergonomic shaped handle
Cast aluminum with food safe powder coated finish
Dishwasher safe
Made in Germany