Global Knives
FREE DELIVERY FOR ORDERS IN NZ OVER $150
Welcome back to APPLEWOOD The Kitchen Shop. You can now shop in store as well as on-line including Click & Collect. Please remember to wear your mask and scan or sign in when you arrive.
Please remember orders made during Covid-19 will be dispatched as quickly as possible. Due to high demand of website orders and restriction of courier staff, this process may take up to 7 days longer than usual. 
Thank you for shopping with APPLEWOOD The Kitchen Shop.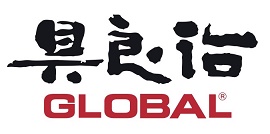 Global knives are possibly the most well known Japanese knives in the world.  Made in Japan from CROMOVA18, a specially designed mixture of the finest high quality carbon, molybdenum, vanadium & chromium.  With a Rockwell hardness of 56-58, these knives are significantly harder steel than traditional European knives.  Along with this, a thinner blade & narrower angle (15 degrees) result in finer, more precise knife work, hard enough so the sharpness lasts longer, yet soft enough to sharpen with ease on the ceramic water sharpener, whetstone or ceramic steel.