Kaiser German Bakeware
TO OUR VALUED CUSTOMERS
Thank you for shopping at The Kitchen Shop
Unfortunately we can not dispatch orders until Lockdown is completed.
We appreciate your loyalty and hope you will continue to shop at The Kitchen Shop.
All purchases will be processed and dispatched promptly when restrictions are lifted.
We hope you all take care of yourselves, you families and whanau and everyone in your 'bubble'.
Happy Cooking. Happy Baking.
Take Care and Stay Safe.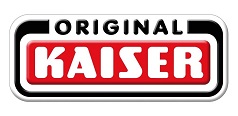 A wealth of manufacturing expertise based on over 90 years of German experience and high-quality products including cake pans, loaf tins and baking trays form the basis for a unique range of Kaiser bakeware products.