Mundial Knives
Due to high demand for products from our website and the difficulties our courier network is facing, your order may take longer than usual to reach you. Please be patient and accept our apologies.

Thank you for shopping with The Kitchen Shop.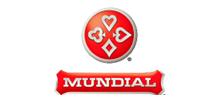 Mundial was established in Germany in 1931 and are now made under rigorous quality control in Brazil, using a unique, fully forged X45CrMo14 steel.  This superior metal is easier to shape & sharpen and holds its edge far longer than ordinary knives. They are forged with full tang & full length bolster for added strength, support & balance then finished with triple-riveted synthetic handle.  The blade of each knife is expertly ground, honed & tested.