Dissco dough scraper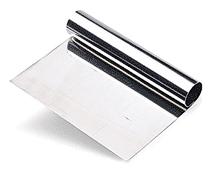 This stainless steel dough scraper is the perfect tool to manipulate dough and to clean the surface on which dough has been worked. You can also use it to help pick up, turn, and portion dough.
When finished, the dough scraper can be used to scrape up the little bits of dough that have dried onto the kneading surface during the forming process. It can also be used in a more generic kitchen role to transfer sliced or diced foods from cutting board to pan.
Size: 15cm x 11cm
Made in New Zealand